WOMEN IN DENIM AWARDS
The Women in Denim Inspiration Award
The Women in Denim Inspiration Award recognizes the contributions of an individual woman to her family, her community, and the world of agriculture. Past winners have been women who farmed locally for many years to nationally-recognized heroines.
The recipient of this award is a woman who is an inspiration to others through her dedication to family, community, and the rural way of life. This is a woman who loves what she does and it shows to those around her. This nominee can be a woman who works quietly in agriculture or speaks to a national audience.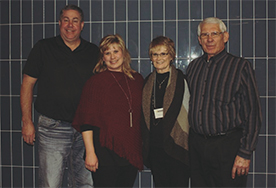 WID INSPIRATION AWARD
The recipient of the Women in Denim Inspiration Award was Trish Friedrich! Trish was nominated by her daughter Kara. Congratulations to Trish on being an inspiration to family, friends and community!
SITE QUICKLINKS
→ Vendor Registration
---
→ 2020 Featured Speaker
---
→ Our Sponsors