Beginning a New Decade Celebrating Women of Rural America
MARK YOUR CALENDARS IN 2016
Join us January 22-23, 2016
Buena Vista University Campus, Storm Lake, IA
Why attend Women in Denim? Because it is for you, and you deserve an opportunity to learn something new, meet new people, have fun and celebrate the contribution you make to agriculture!
Registration and pre-event activities begin at 3pm. Vendor displays will be a variety of products and services will also be available.
• Barb Campbell Determan, Farm Partner/Heartland Marketing Group
• Susan Diersen, Farm Partner
• Deb Hinkeldey, Farm Partner/BVRMC
• Beulah Imming, Farm Partner/Retired Nurse
• Janelle Kirkhart, Commitee Partner
• Jan Mason, Farm Partner
• Gretchen Miller, Iowa Central Community College
• Diane Radke, Farm Partner/Ag Partner, LLC
• Mary Roberts, Farm Partner
• Kathy Tabke, Farm Partner
2015 Award Highlights
The Spirit of Women in Denim Award was given to Dorothy Hinkeldey. Her family nominated her for this award. Hinkeldey has been actively involved in farming for much of her life. While she was growing up, she and her sisters gathered chicken eggs and helped with the produce from their garden. She also walked beans, helped with the hogs, was a 4-H leader, drove the combine, and contributed to many other farm activities.
The Women in Denim Inspiration Award went to Heartland Marketing Group. The contributions to agriculture from each of the award winner are truly and inspiration!
Dorothy Hinkeldey

Heartland Marketing Group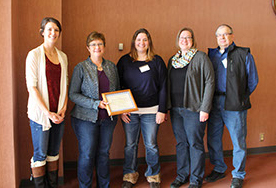 2016 Featured Speaker: Kathy Peterson, SPHR

Kathy Peterson is a fun, dynamic speaker with meaningful content that she tailors to her audience. Her expertise resides in attitude, leadership, difficult people, management, agriculture, and inspiration. Kathy is one of the most sought after speakers in the Midwest because of her ability to connect with people, audiences, and organizations.
Kathy always wanted to be an entrepreneur and after college she started her first business at the age of 19. Eventually she would leave this business and years later she began another, called PeopleWorks. PeopleWorks began in 1998 and it is a speaking and training business.
Her keynotes are always full of useful information, and are presented in a fun, interactive, and engaging way.